Tamale Aloysius was arrested by police as a prime suspect believed to be among the two men caught in the viral CCTV footage killing a bodaboda cyclist in Mengo, Rubaga division in June. (Courtesy photo)
Murder suspect Tamale Aloysius made a confession unto salvation together with five (5) female detainees who were originally Muslims.
Tamale Aloysius, one of the suspects detained by police over the recent brutal murder of a bodaboda cyclist caught on CCTV Camera in Lubaga, has received Christ as his personal Lord and Savior while at the Central Police Station in Kampala, ahead of trial.
Uganda Christian Lawyers Fraternity (UCLF) paralegal advisor Mr Duncan Kijjambu revealed on Monday that Tamale Aloysius made a confession unto salvation together with five (5) female suspects who were originally Muslims.
UCLF is a Christian based Civil Society Organization seeking justice for all in society through the provision of legal aid, legal education, research and policy advocacy on behalf of vulnerable people irrespective of age, gender, religion or ethnicity.
"Unlike the usual days, whilst at the Central Police Station I felt a strong discomfort and desired to head back to my office but deep within I felt compelled to stay a bit longer: that is where I encountered young Mulo among the inmates awaiting court hearing," Mr Duncan Kijjambu narrated how the suspects came to receive Christ.
"There he was with wounds engrossed all over his body and in pain. I could tell he suffered from both emotional and psychological shame. My words to him were simple, 'the world might have judged you for killing innocent people, but in the eyes of God, all sins are equal and deserve same penalty.' (Isaiah 1:18). I continued to share the love of Christ with him and also how he could use his tongue to change his destiny by confessing Jesus as Lord and Savior: which he out remorsefulness accepted to." Mr Kijjambu, who is also a gospel musician, continued.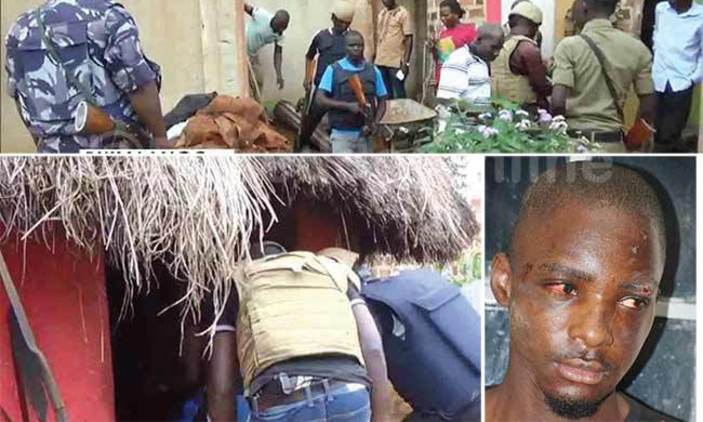 The suspects confessed to Police that they used witchcraft to sabotage security investigations linking them to any robbery or murder, by retaining part of their victims' clothes.
"There's no greater satisfication than reaching to hardcore criminals with my legal services and then watching their lives transform with the love of Christ," Mr Kijjambu stated.
As media reporters revealed earlier, the suspected robbers were on June 30 captured on a school CCTV camera strangling Derrick Mulindwa, a boda boda cyclist, in Kakyeka Mengo in Rubaga Division in Kampala.
Following the incident, media report show that security forces combed multiple suburbs in an operation that linked the crime to a notorious gang that trades in stolen motorcycles and spare parts.
According to sources, at least 13 suspects were arrested by the Police in the Kampala Metropolitan area and 45 motorcycles, assorted motorcycle spare parts and 55 motorcycle number plates recovered.
The stolen motorcycles and spare parts were recovered in the densely-populated suburbs of Katwe and Nalukongo, according to a state linked news daily.